traditional meeting of folk dance ensembles and folk choirs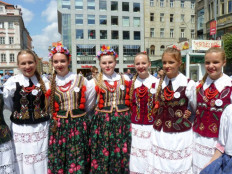 It is a great pleasure for us to invite you to Prague, capital of Czech Republic, to the 9th International Meeting of Folklore Ensembles "Prague Folklore Days", the biggest folk dance event in central Europe.
In 2015 our festival will be held in the period: July 23 – July 26, 2015. The event is organised and realised by the agency Millennium and is taking place under the auspices of the Prague City.
The festival is open for amateur folklore ensembles of all types (singing groups, dancing groups with live or recorded music, historic groups) as well as for marching groups /majorettes, historic soldiers, marching bands, flag wavers, carnival groups etc./ without age with min. 14 members
On the occasion of the festival the folklore groups will get through the following programme points:
2 open air performances in the city centre of Prague

official meeting of groups´leaders with the representatives of the City of Prague

Parade of all ensembles through the city centre of Prague

Half-day sightseeing tour of the city

Dinner with other participating groups

river boat cruise or a performance of a black light theatre - on demand
You will have a unique opportunity to present the folklore and traditions of your region and country to thousands of viewers from all over the world, make new friends and last, but not least – visit Prague, the Golden City in the heart of Europe with all its sights and magic.
In 2016, the festival Prague Folklore Days will be held on July 27-30