traditional meeting of folk dance ensembles and folk choirs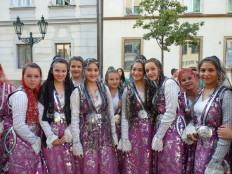 It is a great pleasure for us to invite you to Prague, capital of Czech Republic, to the 15th International Meeting of Folklore Ensembles "Prague Folklore Days", the biggest folk dance and music event in Central Europe.
The next festival to be held in the centre of Prague in the period: July 23 – July 26, 2020.
The event is organised and realised by the agency Millennium and taking place under the auspices of the City of Prague, President of Czech Republic and Prague 1.
The festival is open for amateur folklore ensembles of all types (singing groups, dancing groups with live or recorded music) as well as for marching groups /majorettes, historic soldiers, marching bands, flag wavers, carnival groups etc./ without age with min. 14 members
I M P O R T A N T
Please note that the Prague Folklore Days are in NO WAY connected with the Serbian agency MOONLIT EVENT, Muzsa Office, Blue Diamond and other foreign "agencies" which parazite on our festival.
We are very sorry for folk ensembles that were decieved by these persons, came to Prague and danced for several minutes inside a hotel Prague.. BE CAREFUL - if they do not have enough groups, they cancel the festival without any notice,
in 2018 again, several desperate folk dance groups who came to Prague contacted us and asked for help as they were cheated and ripped off by these folks :-(
Prague Folklore Days is the only Prague folk dance festival with all neccessary permissions from the local authorities in July with official auspices of City of Prague held on open air stages and fulfilling all legal requirements. If you join a festival organized by a Serbian or Macedonian agency. beware that they have already betrayed numerous groups in the past.
In 2021 our festival will take place in the days July 22 - 25, 2021. Welcome!
Partners of our festival 2020: