Traditional International Independent Meeting of Folk Dance Ensembles, Folk and Windbrass Orchestras , Folk Singing, Traditional Costume and Marching Ensembles and Groups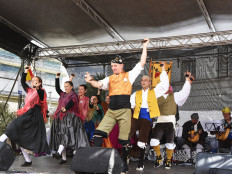 Although the epidemic situation has been improving and hopefully the vaccination campaign will speed up soon, there is still big uncertainity about cultural events this summer.
We understand that the ensembles have not been able to meet and rehearse for months and might not be ready to travel festivals + nobody really knows how international travel will look like till the end of 2021. As it will take some time till things stabilize, we have decided not to hold the festival this summer but concentrate on preparation of the 2022 one.
It has been a very painful decision yet health goes first and we do hope there will be no sign of Covid 19 next year and the next edition will take place in July 2022!
It is a great pleasure for us to invite you to Prague, capital of Czech Republic, to the 17th International Meeting of Folklore Ensembles "Prague Folklore Days", the biggest folk dance and music event in Central Europe.
The next festival to be held in the centre of Prague in the period: July 21 – July 24, 2022
The festival is open for amateur folklore ensembles of all types (singing groups, dancing groups with live or recorded music) as well as for marching groups /majorettes, historic soldiers, marching bands, flag wavers, carnival groups etc./ without age with min. 14 members
We have the honour to announce that the festival Prague Folklore Days 2020 will be traditionally held under auspices of the President of Czech Republic: Mr. Miloš Zeman - we are happy to repeat that as organizers of this event we have nothing to do whatsoever with copies and replicas of our festival organized by foreign companies and we always keep all promises given to the participants
I M P O R T A N T
Please note that the Prague Folklore Days are in NO WAY connected with foreign "agencies" which parazite on our festival.
We are very sorry for folk ensembles that were decieved by these persons, came to Prague and danced for several minutes inside a hotel Prague.. BE CAREFUL - if they do not have enough groups, they cancel the festival without any notice,
Repeatedly several desperate folk dance groups who came to Prague contacted us and asked for help as they were cheated and ripped off by these folks :-(
In 2023 our festival will take place in the days July 20 - 23, 2023.
Welcome!
Festival Partners: